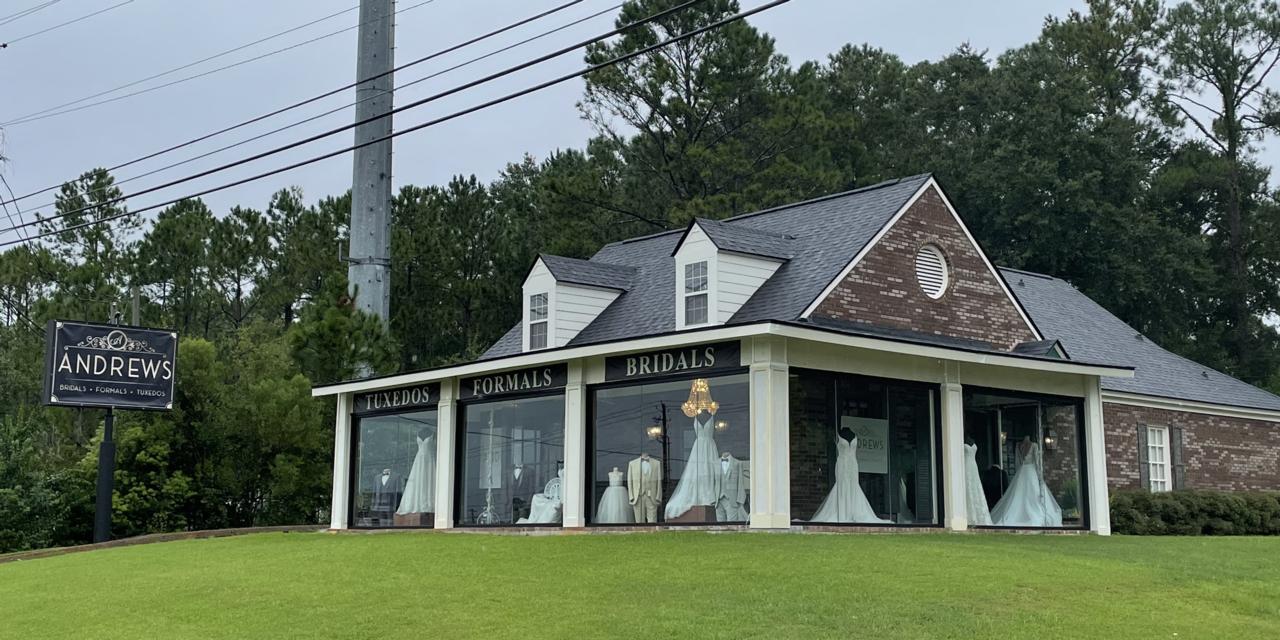 Profile
Established in 1968, Andrews Bridal Shoppe is the original bridal shop in the Tristate area. Serving 4 gen of brides who come to us with dreams and leave with memories of their fairytale wedding. This family owned business is a full service bridal shop specializing in bridal gowns and accessories, tuxedos, bridesmaid dresses, flower girl dresses, mothers of the wedding, and even guests' attire. With 51 years of experience, our highly trained consultants make customer service our first priority. We have refined our process to take the stress out of this beautiful time. Consultants guide our brides through every step, down to the special touches that bring dreams into focus. As we know, the little things matter! For the beautiful times in your life, it all begins at Andrews Bridal Shoppe!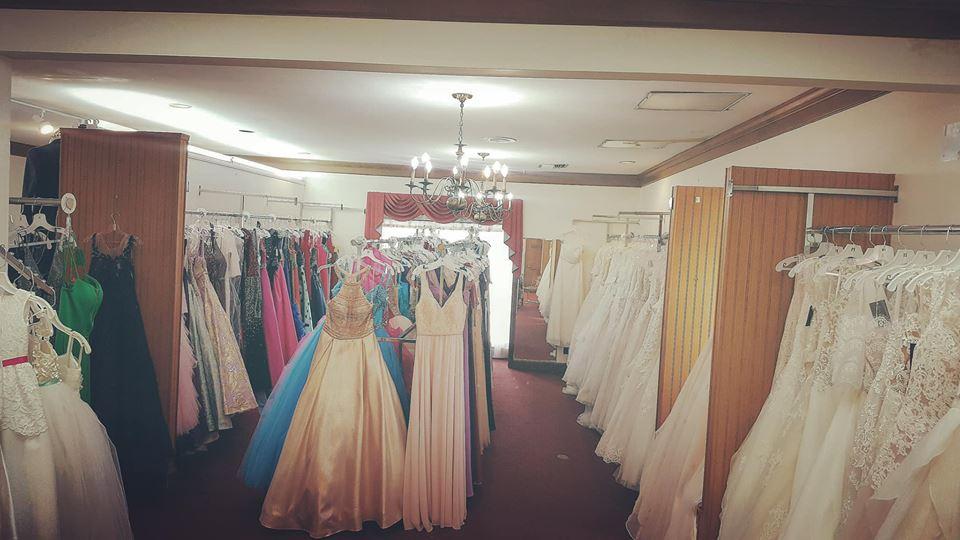 Services
Bridal & Accessories
Bridesmaids
Mothers of the Wedding
Homecoming
Tuxedos
Testimonials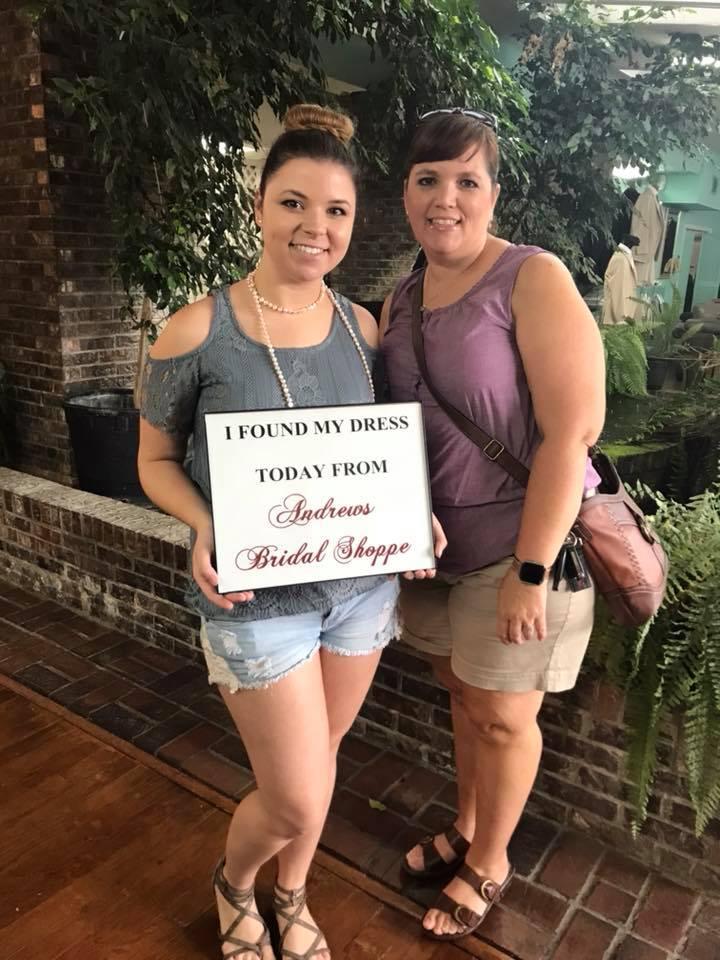 Everyone at Andrews was very helpful to us this past Saturday. I went to four different places and couldn't find "THE" dress until I finally made the decision to try Andrews. The selection was great, and it even made the final decision harder because there were so many beautiful dresses! We went during the perfect time, and got great service and a steal of a deal on the perfect dress and veil. Thank you, Andrews for giving us a great experience.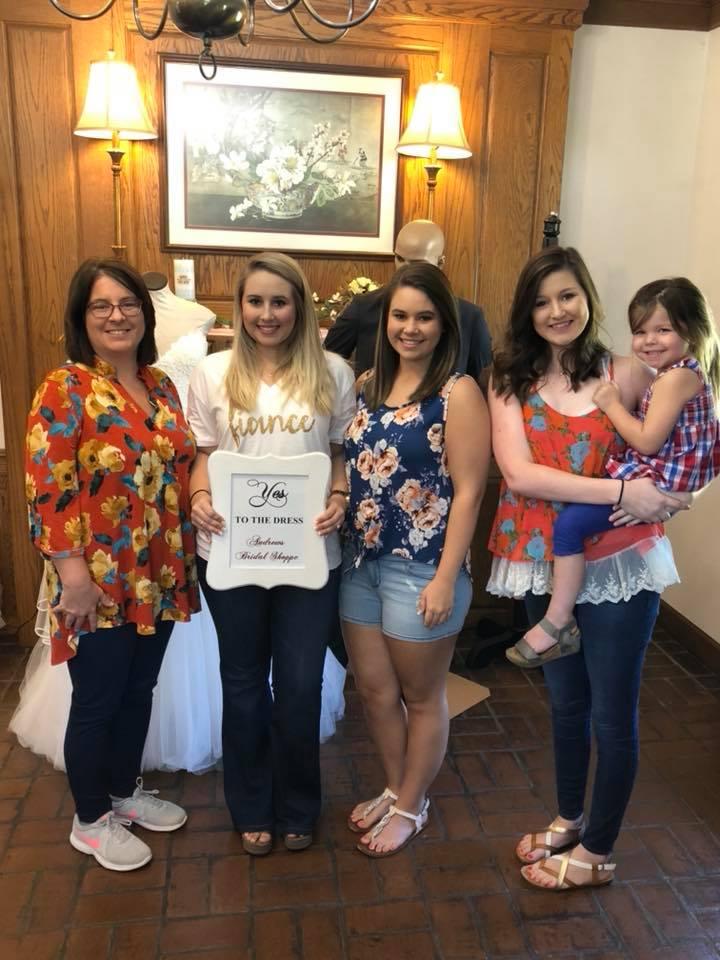 I made a last minute appointment with Andrews, and I am glad I did! They were very attentive and friendly. They helped me with everything I needed from the dress to the earrings. A lot of options to choose from as well! Miranda was so patient and made sure I walked away with the dress of my dreams!! I had such a great experience at Andrews!!
FAQ
Do I need an appointment to try on wedding gowns?
For the best service bridal appointments are highly suggested.
How long does an appointment take?
All appointments and consultations are for two hours. If you need more time we will be glad to schedule another appointment for you.
Ordering
Most bridal gowns are handmade and the arrival of your gown may take anywhere from 4 to 6 months depending on the designer. Gowns can be discontinued or chosen for a sample sale with no notice to the bride, so once you find the perfect dress do not hesitate to order it. When ordering, a 50% deposit is required in the form of cash, check or credit card. The remaining 50% balance is due in 3 equal monthly payments following order.
Measurements
Once you have found the perfect dress and made the decision to place an order, a trained Andrews Bridal consultant will take careful measurements to ensure the best fit possible. While a size is recommended by our staff, the size choice is always the customer's decision.
Arrival and Fittings
Upon the arrival of your bridal gown ( it is shipped directly to Andrews Bridal from the designer)it will be lightly pressed and inspected for any flaws in our shipping and receiving department. The bride will then receive a phone call from a bridal consultant, notifying her that the wedding gown has arrived.
Return Policy
All sales and layaways are final.
Privacy Policy
Thank you for visiting our web site. This privacy policy tells you how we use personal information collected at this site. Please read this privacy policy before using the site or submitting any personal information. By using the site, you are accepting the practices described in this privacy policy. These practices may be changed, but any changes will be posted and changes will only apply to activities and information on a going forward, not retroactive basis. You are encouraged to review the privacy policy whenever you visit the site to make sure that you understand how any personal information you provide will be used.
Note: the privacy practices set forth in this privacy policy are for this website only. If you link to other websites, please review the privacy policies posted at those sites.
Collection of Information
We collect personally identifiable information, like names, titles, addresses, email addresses, etc., when voluntarily submitted by our visitors. The information you provide is used to fulfill you specific request. This information is only used to fulfill your specific request, and for future newsletters focusing on the same subject as your request (ex. wedding dresses). We do not share our mailing list with anyone, ever.
Cookie/Tracking Technology
The Site may use cookie and tracking technology depending on the features offered. Cookie and tracking technology are useful for gathering information such as browser type and operating system, tracking the number of visitors to the site, and understanding how visitors use the site. Cookies can also help customize the site for visitors. Personal information cannot be collected via cookies and other tracking technology, however, if you previously provided personally identifiable information, cookies may be tied to such information.
Online Advertising
We have active Google Adwords campaigns collecting cookies from our web users. This information is used for conversion and remarketing purposes.
You should be informed of the following:

We regularly implement and use Display Advertising. Visitors can opt-out of Google Analytics for Display Advertising and customize Google Display Network ads using the Ads Preferences Manager. We may use Remarketing with Google Analytics to advertise online. Third-party vendors, including Google, show our ads on sites across the Internet. We and third-party vendors, including Google, use first-party cookies (such as the Google Analytics cookie) and third-party cookies (such as the DoubleClick cookie) together to inform, optimize, and serve ads based on someone's past visits to your website Distribution of Information
We may share information with governmental agencies or other companies assisting us in fraud prevention or investigation. We may do so when: (1) permitted or required by law; or, (2) trying to protect against or prevent actual or potential fraud or unauthorized transactions; or, (3) investigating fraud which has already taken place. The information is not provided to these companies for marketing purposes.
Commitment to Data Security
Your personally identifiable information is kept secure, in PCI-compliant, secure, e-commerce certified servers.. Only authorized employees, agents and contractors (who have agreed to keep information secure and confidential) have access to this information.
Privacy Contact Information
If you have any questions, concerns, or comments about our privacy policy you may contact us. We reserve the right to make changes to this policy. Any changes to this policy will be posted.